siempre siempre
2020 - 2021

La Caldera, Barcelona (december 2020 - january 2021)

2021

Co-produced by the ICI-CCN, in collaboration with the students of the Master's program (Exerce) and the students of the Ecole Supérieure des Beaux-Arts de Montpellier MO.CO., April 2021.

Ciència Fricció Exhibition, CCCB, Barcelona, October 2021
What are the latent images in this place? A place that is cinema, a place that is factory, a place that is body,... To glimpse these images we take the space as a constant event.

Perhaps they are images that lead us to abandon the incessant productivity, perhaps they are images that need a way out, but on what screen could this way out take place?

An archeology of what is already there.

A light wobbles strong. Even when the projector has stopped projecting, there is image

To interrupt. To make a transformation come.

When the screen of the imagination emerges from the traces, from the remains, from the cracks of a space, from the places between objects situated at the intersection of various tensions, it is then that the objects are no longer physical things placed before the human being, but a reality that receives this intersection of tensions. There are earthquakes in progress along the fault lines between these relations; places in transit devoid of any fixed determination. Seismic regions that are the place of image and imagination, where all things, human, non-human, real, fictional, cease to be independently existing entities. How do we inhabit the in-between

Relationships between sounds, lights, bodies, hacks, that repair and fiddle, arranging an oblique look that allows us to escape from the need to chain images, to want to understand everything, leaving non-hegemonic fictions.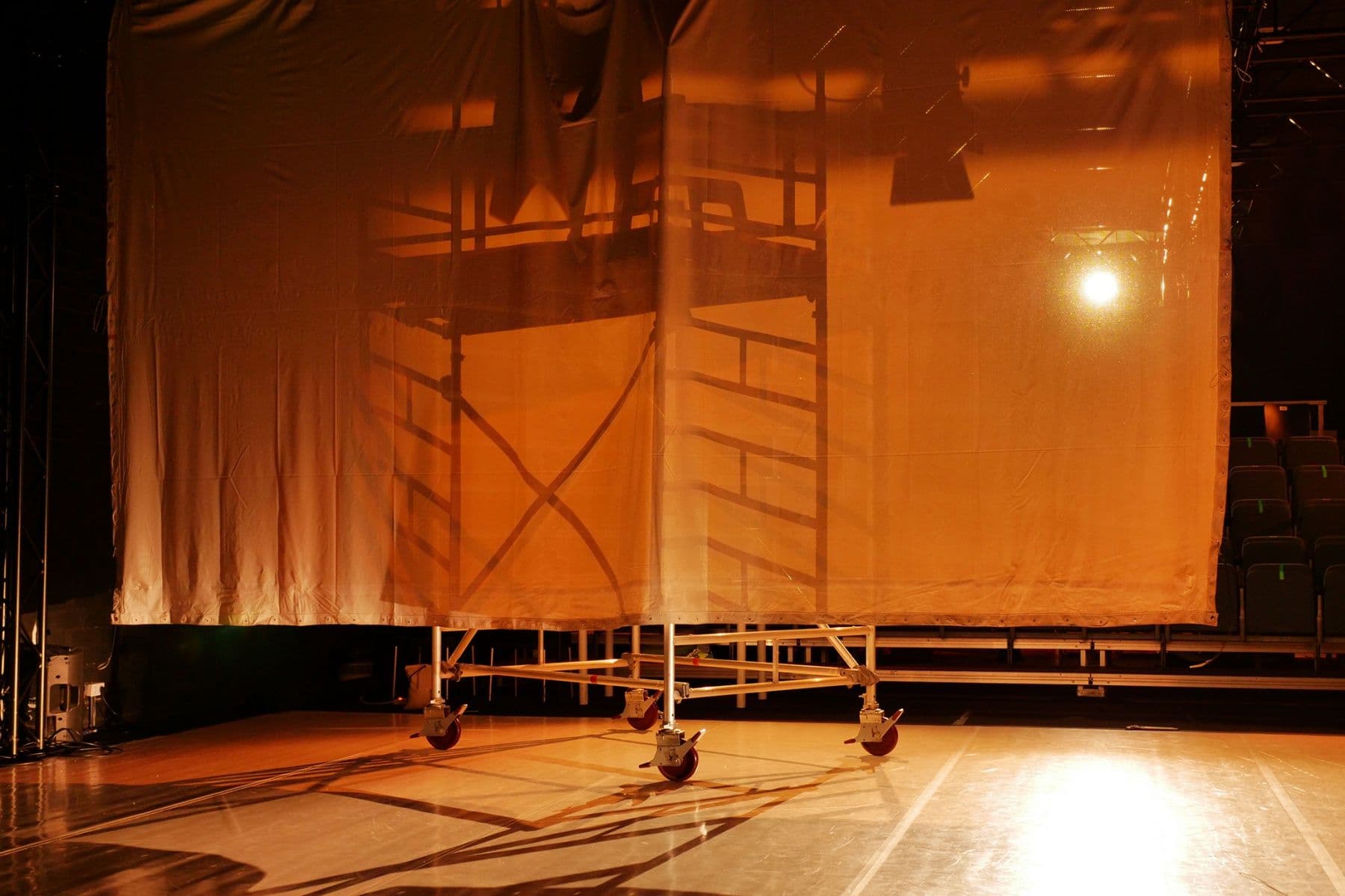 Cast
Project:
Nyamnyam (Ariadna Rodríguez and Iñaki Alvarez) and Carme Torrent.
Collaboration:
Carolina Campos
Pedro Pineda
DJ Tutu – Gemma Planell
Consulting for light object :
Jordi Canudas
Thematic consulting:
Blanca Callén
Acknowledgements:
Óscar Dasí
Production:
Cooperativa NY NY SCCL
Coproduction:
ICI – Centre chorégraphique national Montpellier/Occitanie
In collaboration with La Caldera – Centro de creación de danza and Festival Sismògraf
2020 - 2021

La Caldera, Barcelona (december 2020 - january 2021)

2021

Co-produced by the ICI-CCN, in collaboration with the students of the Master's program (Exerce) and the students of the Ecole Supérieure des Beaux-Arts de Montpellier MO.CO., April 2021.

Ciència Fricció Exhibition, CCCB, Barcelona, October 2021